Current
PhD studentship available with immediate start
A 4 year PhD position is currently available for EU/home students. The project is funded through a Frugal Innovation initiative  and aims at developing  low cost diagnostics for bacteria detection in bodily fluids. This is a collaborative project involving microfluidics and flow diagnostics and opportunities to engage with academics/clinicians in  low resource settings.
General
We welcome applications from enthusiastic students and postdocs with an interest in experimental fluid mechanics to join our group.  Strong background in fluids as demonstrated from relevant project or research work is required. We have an excellent record of successful PhD completion and researcher mentoring with many of our students winning national awards.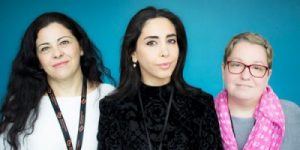 Dr Mona Alimohammadi  (middle)  winner of UK's Best Medical Engineering PhD Prize and a place in Springer's "Best of the Best" Theses for her PhD work on aortic dissection supervised by  V. Diaz and S. Balabani. 
Please contact Prof  S. Balabani for more information.