June 2022 – Aida has recorded a lecture for the general public on the genetics of local adaptation in humans at the Gresham College. Watch it here!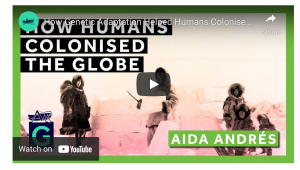 June 2022 – The paper of a long-term collaboration with with Claudia Fontserre and his supervisor Tomas Marques-Bonet, led by Tomas and Mimi Arandjelovic and involving many others, is now out. Population dynamics and genetic connectivity in recent chimpanzee history, where hundreds of chimpanzee non-invasive samples were used by the team to infer the fine-scale demographic history of wild chimpanzees.
May 2022 – New preprint, Genetic adaptations to SIV across chimpanzee populations. Led by Harvinder Pawar, this study analyses full genomes of chimpanzees and identifies very interesting signatures of genetic adaptation to SIV in chimpanzees.
February 2022 – Jasmin and Aida wrote a perspective for Science on a paper that reports the largest genetic genealogy of humans to date.
Check it out on our publications page.
January 2022 – Harrison Ostridge won the first ever Best Twitter Flash Presentation at the 55th Popgroup meeting. Fantastic Twitter Thread, obviously. He was interviewed in the Heredity Podcast too.
Huge congratulations Harrison!  UGI, GEE News piece.
December 2021 – We have been awarded two grants to study the population genetics of sexual antagonism in fruit flies, together with Max Reuter. We'll be hiring several postdocs soon.
November 2021 – David Reher successfully defended his PhD thesis at the Max Planck Institute for Evolutionary Anthropology. We followed the defence online. Amazing work, Dr. Reher!
2020 – 2022 – The four PhD students in the group passed their upgrade during the pandemic. Well done!
2020 – 2022 – There was this pandemic, not sure if you heard about it?
May 2020 – Check out our invited review on The genomics of human local adaptation in Trends in Genetics, led by Jasmin Rees in the group, and with Sergi Castellano at the UCL Institute of Child Health.
March 2020 – New paper on the Identification of Structural Variation in Chimpanzees Using Optical Mapping and Nanopore Sequencin in Genes. Soto et al., led by the group of our long-term collaborator Megan Dennis.
December 2019 – Our paper The impact of genetic adaptation on chimpanzee subspecies differentiation, which revealed likely adaptation to the Simian Immunodeficiency Virus in eastern and central chimpanzees, is published in PLoS Genetics. It was led by postdoc Josh Schmidt (now at the University of Adelaide) and in collaboration with Sergi Castellano at the UCL Institute of Child Health.
UCL news piece.
September 2019 – New paper! Evolutionary and functional impact of common polymorphic inversions in the human genome has been published in Nature Communications. Ginger et al., NatComm (2019).
September 2019 – Sojung Han successfully defended her PhD thesis at the PRBB in Barcelona. Congratulations, Dr. Han!
September 2019 – Our paper on local adaptation of human cold receptor TRPM8, led by former PhD student Felix Key (now at Harvard), has been Highly Recognized by PLoS Genetics: among the three best nominated papers published in the journal in 2018.
UGI,GEE News piece. Announcement.
September 2019 – Congratulations to Derron Abdulla, who defended his project and graduated from his MSc.
July 2019 – Group Alumni Bárbara Bitarello (now at UPenn) receives her award from the Society of Molecular Biology and Evolution for best paper published in GBE by a PhD student, at the SMBE meeting in Manchester.
UGI,GEE News piece.
July 2019 – We welcome Aarthi Seekar (from UC Davis) and María Lucena Pérez (from the Estación Biológica de Doñana), both visiting us for the month of July.
June 2019 – Harvinder Pawar received an award for best presentation, for her talk on her extended MSci project on local adaptation in chimpanzee subspecies. Congratulations Harvi!
June 2019 – Congratulations to Harvinder Pawar and Simran Rai, who just finished their extended MSci project in the group, and graduated.