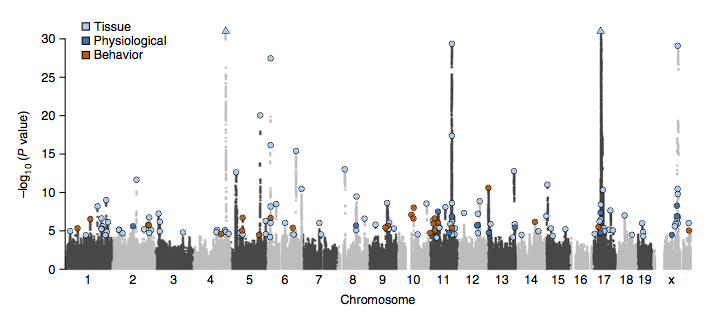 Introduction
The data made available here was collected and analysed in a large genome-wide association study performed with more than 2000 Crl:CFW(SW)-US_P08 outbred mice and presented in the 2016 articles:
---
Phenotypes
Data available in the phenotypes sub-directory.
Genotype Dosages
Data available in the dosages and all_dosages sub-directories.
dosages contain imputed allele dosages at the 359,559 tagging SNPs used for mapping. There is one .RData file per chromosome (e.g. chr19.prunedgen.final.maf001.0.98.RData). Each file contains 3 R objects:

nameList: List with the IDs of the 2073 mice with imputed dosages. Note the format of the IDs (e.g. "Q_CFW-SW___100.0a_recal.bam") differs from that used in the phenotypes files ("Q_CFW-SW/100.0a").
pruned_pos: Table with the SNP position and the reference ("REF") and alternative ("ALT") alleles.
pruned_dosages: Table with the imputed allele dosages at the tagging SNPs for the 2073 mice.

These files include dosages for all 2073 mice. In this directory is the file "List_of_1934_mice_used_for_analysis.RData" which contains the list of the 1934 mice retained after exclusion of related animals and outliers, and used for the genetic mapping.
all_dosages contains imputed allele dosages at 7M sites. Data for each chromosome is stored as an Rdata file (eg chr19.dosages.RData)

Each file contains a dataframe named df.
Each row corresponds to one SNP.
The first five columns of the dataframe are chr, bp, hwe, info, pass that give respectively the chromosome, base-pair position (build 38), Hardy-Weinberg Equilibrium p-value, info-score and QC pass/fail indicator (those that pass correspond to the 5.7M SNPs used for fine mapping, and are defined to be info>0.4 & hwe>1e-6 on autosomes and info>0.4 on chrX).
The remaining columns give the imputed dosages for the 2073 mice (one column per mouse).
Thus each dataframe has over 2000 columns and tens or hundreds of thousands of rows and is therefore VERY LARGE.
---
QTL Mapping results
Data available in the mapping sub-directory.
Association results (as -log10( P-values) ) are provided at 359,559 tagging SNPs for 200 phenotypes (one .txt file per phenotype). These data can be visualised at GScanViewer.
The sub directories mapping/micronucleus_males_only/ and mapping/micronucleus_females_only/ contain the mapping results of the Micronucleus.Mn.NCE phenotype performed separately with males and females.
---
QTL plots
Plots of all QTLs are available as .pdf files in the qtls sub-directory. Example plot
---
BAM files
The BAM files containing low-coverage whole genome sequence data for the CFW mice are available from the European Nucleotide Archive under project ERP001040 .
---
STITCH
The STITCH algorithm used to impute genotypes in this study was written by Robert Davies and is available from here.
---
Credits
The data was generated by or with the assistance of: Jerome Nicod, Robert Davies, Na Cai, Carl Hassett, Leo Goodstadt, Cormac Cosgrove, Benjamin K Yee, Vikte Lionikaite, Rebecca E McIntyre, Carol Ann Remme, Elisabeth M. Lodder, Jennifer S. Gregory, Tertius Hough, Russell Joynson, Hayley Phelps, Barbara Nell, Clare Rowe, Joe Wood, Alison Walling, Nasrin Bopp, Amarjit Bhomra, Polinka Hernandez-Pliego, Jacques Callebert, Richard M. Aspden, Nick P Talbot, Peter A Robbins, Mark Harrison, Martin Fray, Jean-Marie Launay, Yigal M. Pinto, David A. Blizard, Connie R. Bezzina, David J Adams, Paul Franken, Tom Weaver, Sara Wells, Steve DM Brown, Paul K Potter, Paul Klenerman, Arimantas Lionikas, Richard Mott & Jonathan Flint
Any queries should be addressed to Jerome Nicod, Richard Mott or Jonathan Flint .