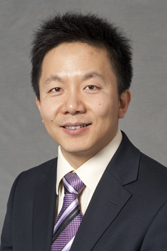 Senior Lecturer
Department of Computer Science
University College London (UCL)
Email: s.zhou (at) ucl.ac.uk
Dr. Shi Zhou (周实) is a Senior Lecturer (i.e. Tenured Associated Professor and PhD Supervisor) of Department of Computer Science, UCL. He is affiliated with the Media Futures Research Group. He is Deputy Director of MSc/MRes in Web Science and Big Data Analytics. He is a PhD supervisor of the UCL Security Science Doctoral Training Centre (SECReT) and the UCL Financial Computing Doctoral Training Centre. He is a founding member of the UCL Academic Centre of Excellence in Cyber Security Research (ACE-CSR).
He received his BSc Degree (First-Class) and MSc Degree (Distinction) in Electronic Engineering at Zhejiang University, China. He received his PhD in Telecommunications at Queen Mary, University of London (QMUL) in 2004. He held a prestigious Royal Academy of Engineering/EPSRC Research Fellowship from 2007 to 2012.
He is a Senior Member of IEEE. He is a Committee Member of the Internet Specialist Group of the British Computer Society (BCS). He is an Editor of the Scientific Reports of the Nature Publishing Group.