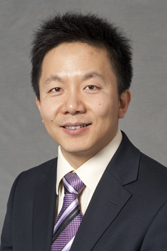 Associate Professor, SIEEE
Department of Computer Science
University College London (UCL)
Email: s.zhou (at) ucl.ac.uk
Dr. Shi Zhou (周实) is a Senior Lecturer (i.e. Tenured Associated Professor & PhD Supervisor) at Department of Computer Science, UCL. He is affiliated with the UCL Media Futures Research Group. He is a founding member of the UCL Academic Centre of Excellence in Cyber Security Research (ACE-CSR).  He is also associated with the UCL Security Science Doctoral Training Centre (SECReT) and the UCL Financial Computing Doctoral Training Centre.
He is a Senior Member of IEEE. He is a Committee Member of the Internet Specialist Group of the British Computer Society (BCS). He is a member of the Editorial Board of the PLOS ONE and the Scientific Reports of the Nature Publishing Group.
He received his BSc and MSc Degrees at Zhejiang University, China. He received his PhD in Telecommunications at Queen Mary, University of London (QMUL) in 2004. He held a prestigious Royal Academy of Engineering/EPSRC Research Fellowship from 2007 to 2012.
He is the Deputy Director of MSc/MRes in Web Science and Big Data Analytics, where he teaches a PG module on Complex Networks and the Web.
He is also the Study Abroad Tutor for MEng in Computer Science (International Programme) and MEng Mathematical Computation (International Programme).