Keynote speaker
Alberto Sanna
Role: Keynote speaker
Affiliation: eServices for Life and Health, Scientific Institute San Raffaele
Talk title: Engineering Awareness: Health & Wellbeing services in socio-technological ecosystems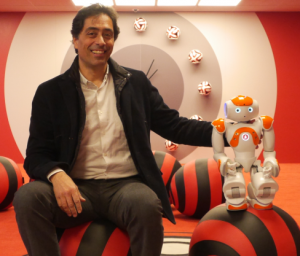 Abstract: Healthcare is facing a twofold challenge: on one side, the need of
having a more accurate, timely and comprehensive Individual's risk profiling
requires the collection and analysis of big amount of data ranging from physiological and genomic data to behavioral and exposure ones (we can name them "Behaviouromics" and "Exposomics"). Big Data are not enough, though: in fact,  healthcare is also in the need of playing a more proactive role in supporting each and every Individual in the daily management of health-related activities (that range from adherence to therapies to lifestyle changes affecting health determinants, such as: nutrition, physical activity). It is widely recognized that life-long behaviors based on healthy diets, regular physical activity, health literacy and education are major factors in health promotion
maintenance at all life stages, but outcomes fundamentally depend on the continuum of Individuals' choices in everyday life. Thus, the real challenge is indeed how to transform a medical prescription into a personal positive experience, that can motivate Individuals' adherence and being seamlessly embedded into everyday life.
In this context, lifestyle and wellbeing services have an immense medical, economic and societal potential and bears the burden of a great responsibility at the same time. Lifestyle and wellbeing services are not only addressing physiological and functional aspects, as they encompass a myriad of aspects, ranging from an Individual's sensorial experiences and internal, rewarding mechanisms to a vast array of psychosocial, cultural, organizational and economical influences that contribute to the shaping of one's personal preferences and behaviors. The lecture will illustrate the Engineering Awareness[1] system design approach and related research projects demonstrating how Health and Wellbeing Services enable innovative design and deployment of everyday life services dealing with nutrition, physical activity, edutainment, health literacy and socialization for major population targets (kids, active adults, elderlies) and the promotion, facilitation, motivation of healthier behaviors.
[1] TEDx Talk on Engineering Awareness (In Italian with English subtitles) available at www.youtube.com/watch?v=TMhj4Q30q0U
Bio: Alberto Sanna graduated in Nuclear Engineering at Politecnico di Milano, in Milan Italy. He has been in charge of healthcare process re-engineering projects at the Scientific Institute San Raffaele since 1989, leading highly innovative Information Technology and Automation & Robotics-driven clinical projects in the Nuclear Medicine, Clinical Lab, Hospital Pharmacy, Ward and Surgical Room. Since 1999 he is director of the e-Services for Life and Health Research Center (www.eservices4life.org) and he's successfully managing R&D projects clustered in 5th, 6th, 7th European Commission R&D Framework Programs covering three main research domains:
Since 1999 on, SMARTer and SAFer HOSPITAL R&D Program for Patient Safety: analysis, design, development, pilot testing and technology transfer of innovative safe & trusted hospital healthcare processes based on pervasive Information Technology, Automation & Robotics, Modeling & Simulation in cooperation with leading industries in the medical, pharmaceutical, information technologies markets, scientific research institutions and policy makers.
Since 2003 on, SMARTer and HEALTHIer LIFE R&D Program for Disease Prevention and Well-Being Promotion: analysis, design, development, pilot testing and technology transfer of innovative personalized and pervasive e-Services-based processes and business models to support Individual's compliance to pharmaceutical therapies and awareness & motivation for behavioral changes & healthier lifestyles (with particular focus on nutrition and physical activity) in cooperation with leading industries in the pharmaceutical, food & beverage, multimedia, information technology markets, scientific research institutions and policy makers.
Since 2009 on, In charge of the SMARTer and HEALTHIer CITY R&D Program and Living Lab for the City of the Future: e-Services re-engineering of the urban environment in the perspective of Internet of Services and Service Robotics, to enable and promote healthier and more eco-sustainable lifestyles (http://www.youtube.com/watch?v=TMhj4Q30q0U  – English subtitles).
During his career, he has been presenting his research activities in 100+ top level international congresses and he has been constantly active in academic teaching in Information Technology courses at the University of Milan (Dependability of Information Systems) and University of Insubria (Smart & Mobile Systems for Innovative Services). Presently, he is teaching Information Technology for Predictive, Preventive and Personalized Medicine at the University Vita-Salute in Milano. He is author of edutainment videogames & formats and inventor of patents & trademarks in the field of innovative technologies for health and wellbeing.